Throwing a baby shower is fun but when you start adding up decorations, favors, games, and food, it can be quite costly.  I had a limited budget and I am pretty proud of the results.
First, I found the cutest bee shower printables on Etsy by Prickly Press for $11.  Look at all the great stuff you can print!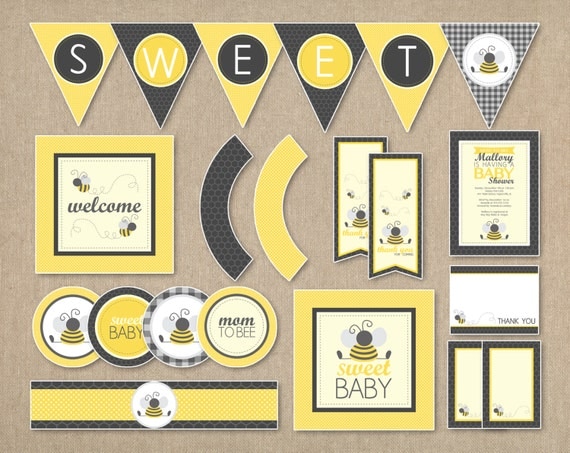 Next, the favors.  I ended up spending $1.50 per favor which I felt was reasonable.
Boxes – Oriental Trading (found free shipping code)
Honey Dippers – Etsy by UHome Taste
Ribbon – Hobby Lobby 50% off 🙂
Bit O' Honey – Dollar Tree (or if you have a Winco they have them in the bins)
Now for the games. I decided to ditch the games and go with a craft. Make a onesie! I thought it sounded fun and useful. I purchased the plain white onesie packs by Gerber which were $8 for a pack of five. These can be purchased at Target or Walmart. Also, Carters has onesie packets if you prefer their brand, though quite a bit more in cost. I collected sizes 0-3 months up to 18 months making a total of 20 onesies. This gave everyone a chance to make at least two.  In order to make these onesies you will need iron on applique, different (but coordinating) fabric choices, traceable templates.  I used the Cricut Doodlecharms cartridge mainly, but chose some designs from other cartridges I have in my collection to make the templates.
Oh wait, I did do a guessing game… sort of.  As guests arrived I had them stamp the date they thought baby would arrive.
So here is how the onesies turned out.  It was so fun to see how creative everyone was.  One guest put the design on the booty.  So cute.
Food! A very important part. I simply did a make your own sandwich with rolls and deli meat, cheese, condiments, chips, veggies, fruit salad, brownies, lemon cakes, and bottled water. I spent only $50 and change.
All in all this shower cost a whopping $150 approximately. Doesn't have to cost a lot to throw a cute and fun shower.